For an overview of Fog Bandit specialist risk applications and key clients examples
Fog Bandit key product features explained and illustrated with activation video footage
Fog Bandit 24/7 tailored solutions - deployment examples & case study activation video footage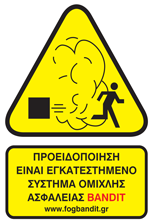 Why Choose Bandit
The FOG BANDIT is the fastest and highest density security fogging system of its kind in the world!
The Fog Bandit is the FIRST and ONLY Security Fogging System in Europe to have been independently tested and verified to comply with EN50131-8 regulations as first implemented by CENELEC (European Committee Electro-technical Standardisation) in April 2010 to supersede BS 7939 (1999).
The FOG BANDIT leads the field by taking security fogging systems to a totally new level of effectiveness and reliability. Utilising the latest patented technologies, the FOG BANDIT delivers harmless, ultra dense fog at unprecedented speed to provide the very highest levels of protection against the losses and property damage associated with burglaries. Once traditional security defences are breached the FOG BANDIT rapidly releases its plume of dense visually impenetrable fog to inhibit the intruder from entering your business premises and from stealing your valuable assets.
Introducing new or strengthening existing perimeter defences (alarm, camera), simply increases their repair costs after a burglary attempt, costs which are often far greater than the value of goods stolen. Investing in a FOG BANDIT can avoid these costs, stop the losses and deter intruders from returning in the future.
The FOG BANDIT can also be deployed for 24/7 protection including deterring and foiling daytime robbery.
Not surprisingly the FOG BANDIT is the market leader in mainland Europe and the UK, and is consistently used to complement security systems preventing burglaries and robberies, minimising loss, damage and threats to staff.